Friday, November 15, 2013
Five On Friday
I am behind on posts this week so I thought I would join the Five On Friday girls and share some things from the week...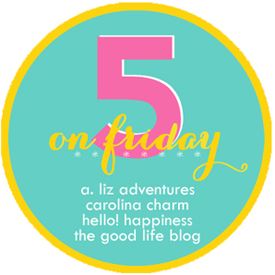 1. Sunday I went on a tour of Nashville with Grayline Tours and Blog Nashville. I am going to share more next week but here is a little sneak peak of me and Natalie at the Bicentennial Mall. We had a great time!
2. My Brittany Fuson planner came in the mail yesterday and I can't wait to start adding all of next year's activities on it! There will be lots of showers and weddings going on next year for my friend's as well as a baby arrival...2014 is going to be a great year! You can check out the planner as well as other Brittany Fuson products
here
.
3. My November Birchbox arrived yesterday too and it was filled with some fun goodies as usual. If you are unfamiliar with Birchbox, I would highly recommend checking it out. It is a $10 subscription once a month and every month a box arrives with all kinds of beauty samples to try. This month I am excited to try the nail polish and the pretty lipgloss! You can check out Birchbox
here
.
4. I have started working out again so a couple of weeks ago I bought a Style Blueprint deal for Swell Pilates. It is supposed to be a really great workout so I am really looking forward to trying it! I am going this Tuesday so I will let you know how it goes! You can check out their site
here
.
5. Craig and I are having a date night tomorrow night and going to see a movie. I can't decide between About Time with Rachel McAdams or The Book Thief. The Book Thief was such a good book so I can't see how we could go wrong with the movie but it didn't have great reviews. I think I am leaning towards About Time anyway but we will see!
Have a great weekend!